This is the handbag I made to test
Alice's
handbag pattern. I love the pattern! It's very uncomplicated, which is great for crocheter like me who doesn't like complicated. :)
This is the small size- it measures (laying flat) 7 inches high (from the bottom of the bag to the bottom of the handles), 9 inches wide, and 2.5 inches deep. I used Lily Sugar n Cream... I like the structure that the cotton yarn gives the bag- it stands up well on its own.
The lining went in so easily, I thought I was surely doing something wrong... I didn't believe I could make a lining that would fit this bag so perfectly on the first try! But I did, and it looks great.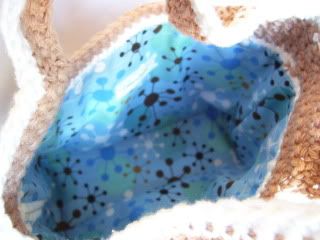 Right now I'm making the medium size, which currently measures 10.5 inches wide and 2.75 inches deep (I'll measure the height when it's finished). I'm using Lion Brand CottonEase on this bag... this is the first time I've used this yarn and I really love it! No splitting at all and it comes in lots of great colors (solids, which I tend to like better than Sugar n Cream's colorways).
Many thanks to Alice for letting me test this pattern! It's an easy pattern to get the hang of and (as evidenced by all the different bags on her blog) offers tons of flexibility for personalization.