This year I made birthday gifts for two of my three teaching partners. The third one has her birthday in July, and I always miss it. Not this year! She'll get her gift early (next week, when I see her) and can decide whether to open it on the spot or wait til her actual birthday. Either way, I think she'll like it... I like it so much I almost kept it for myself!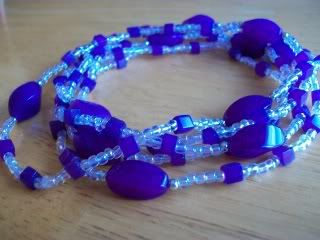 It's a really long necklace. She likes to double them around her neck... this first picture doesn't really do justice to the beautiful color of the beads... the one below is a little better.
Every Wednesday during the school year, teachers at my school are encouraged to wear purple (one of our school colors). I thought this necklace would work perfectly for my friend on Wednesdays! I got the purple beads from JoAnn and the clear seed beads were from my stash.

Bead stash, yarn stash, fabric stash, scrapbook stash... I have too many stashes. :)