I have been frustrated with my storage system for my costume jewelry, which consists of laying necklaces and such out on my dresser in a pile. Not such a good system, really. After some thought, I decided to create something that could hang on the wall, so that my necklaces could hang and be seen.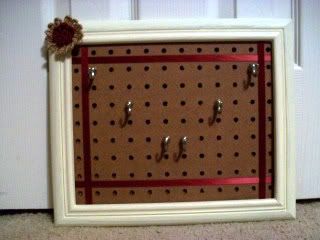 I took a while to formulate an idea, and decided to hit up my local thrift stores (can I get a vintage shout out? lol) to find a picture frame. I found two perfect ones for $1.99 each at Goodwill. I decided to make one necklace holder for myself and another for a friend's birthday. (Which is today! Happy Birthday, Kelly!)

On Sunday, I went to Home Depot for spray paint, hooks, and pegboard. Challenge #1: It was a pain in the toot to find hooks that were the size and shape I wanted, in the price range I was looking at. I almost went with drawer pulls, but at the last moment I found hooks that were part of a key rack. I unscrewed the hooks to use in my project.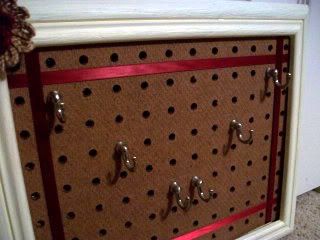 So I get everything home and sanded and painted the picture frame. I didn't take pictures of the process just in case it sucked, but when I do the next one I'll do more photos.

Challenge #2: Cutting pegboard with a rinkydink, slightly rusted, lives-on-the-floor-of-the-garage handsaw was awful. I sawed back and forth for 10 minutes and managed to cut 1 inch. I finally went back out to a hardware store and bought a little electric handsaw.

Challenge #3: Waiting for the battery operated cordless handsaw to charge is torture.

This project is beginning to be more of a hassle than I anticipated. Sigh.

FINALLY, the saw is charged. I'm ready to cut the pegboard. Yay!

Or not. Challege #4: Cutting pegboard when you don't have a vice or worktable is dangerous, scary, and not easy at all. That's why I asked my husband to do it. :)

Okay. Frame painted, check. Pegboard cut, check. I'm ready to assemble. I originally intended to cover the pegboard in fabric, but it looked stupid. I finally decided to leave it bare and accent it with ribbon. I actually like it that way. I positioned the hooks and made a cute little crocheted flower for the corner.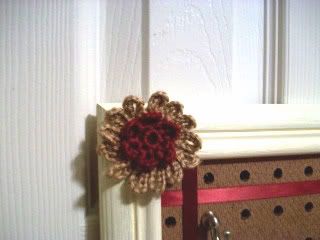 I LOVE how it turned out! My friend loved it, too. :) She sent me a pic from her cell phone... she's already got it hung on her wall and covered in jewelry. She also put pictures under the ribbons. It looks awesome! This one was for her, but the next one is for ME!