OH MY GOSH. If I knew every swap I did would be *this* much fun, I'd do it EVERY DAY!
Waaay back in January I published my
100th blog post
. I wanted to do something to celebrate, so I proposed a swap with anyone who wanted. Lucky for me,
Mia
emailed right away! We exchanged several emails to get to know each other (and, btw, it's FREAKY how alike we are!) finally decided that we'd make some stuff to send to each other and set a deadline of March 1st.
Life got in the way and we both ended up sending our boxes late. A month late. Um. Whoops. Good thing my thinking has always been "better late than never"... it was actually funny, that it ended up that way... one more similarity between Mia and I. (Please ignore that grammatically awful sentence as my excitement over the swap has temporarily muddled my brain.)
I got Mia's box on Monday night and HOT DOG, it was awesome! I opened the box to find this....
and here's a little teaser....
and inside I found these.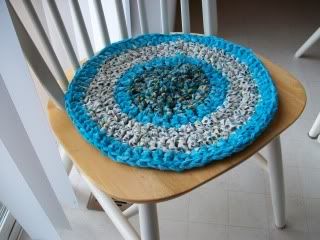 Gorgeous placemats crocheted from strips of fabric! LOVE it! Mia also says they can be used as chairpads and I think I love that even more!
Next I saw this...
and here's what was inside!
The most adorable cupcake apron. Hmmm... I didn't tell Mia how much I love cupcakes, but she knew anyway! She's so smart. It's also funny that we both made aprons for each other!
Underneath the apron was this: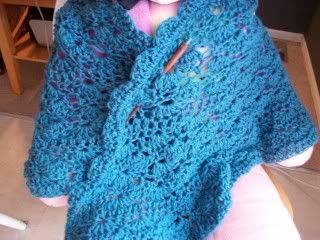 Isn't it beautiful? It's the softest shawl I've ever touched, and it's the perfect shade of smoky blue. It also came complete with a shawl stick thingie to hold it closed. (Actually I initially thought the shawl stick thingie was a hair stick thingie, but luckily realized it's proper use. It didn't stay in my hair, anyway!)
There's more! This box was packed to the gills. Here's our next category: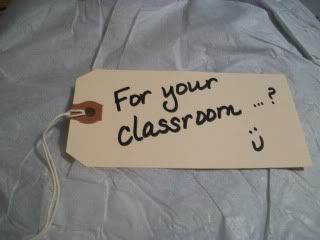 Yay! I love fun stuff for my classroom... things that make it feel homey. This definitely foots the bill:
NO WAY! It's a bunting personalized with my name. How neat! I have the perfect wall space in my room to put this up and it's going up today! Here's an excerpt from the email I sent Mia: "I should mention here that at one point I was wearing the apron, the shawl, and trying to hold up the bunting for Hubby to see all at the same time. He thinks I'm nuts. (And normally when I exclaim over cute stuff he sort of rolls his eyes and sarcastically agrees with me but thinks I'm being such a girl. However, when he saw the bunting, he exclaimed "That's really cool!". High compliments from him, let me tell you.)" Haha! Here's a close up.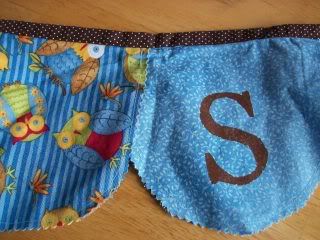 I also found this in the box...
It's the cutest little pouch in the same fabric as the bunting. I love owls!! The box was rounded out with some fun scrapbooking supplies:
Whew! She really hit the nail on the head. From the first email, I knew this would be a great swap. We found that we really have lots in common, which made it easy to make things for her and easy to love everything she made! Everything was so great... Mia is such a talented crocheter and sewer and I really love each and every item. Thank you, Mia! It has been such a pleasure to get to know you!
In my next post I'll show what I sent her. :)