Another finished project! I'm a sewing fiend these days.
I really needed something to corral all the loose threads and bits that pile up during sewing. After a look around blogland, I found
this
tutorial at
Sew, Mama, Sew!
, and it was designed by Elizabeth from
Oh, Fransson!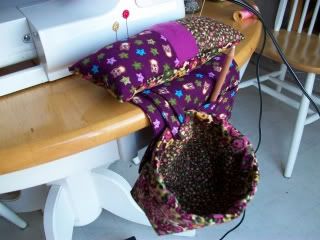 I chose some fabrics from my stash, and set to work. There were a lot of little pieces (a lot of pieces in general) but I think it turned out great! The tute was easy to follow and had lots of pictures, which is great for us kindergarten teachers, haha.