I
started this quilt
waaaaaaay back in the first week of July, using the
Stacked Coins Baby Quilt
tutorial on
Moda Bake Shop
.
I put the quilt top together pretty quickly and got halfway through quilting before my machine got mad and punked out on me. A trip to the sewing machine doctor was in order!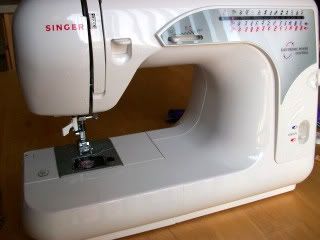 I got her back the first week of August, perfectly tuned and timed, but school has taken up all
my
time, so I didn't pick the quilt back up until Thursday night.
Did I mention the baby was born July 27th? Oops.
At least she'll get it before she's 2 months old! Because....
it's finished! I am in love with this quilt... I'm going to have a hard time sending it away.
I quilted in straight lines (must get a walking foot for the next quilt!) with purple thread perpendicular to the columns.
This quilt measures 31.5 by 32 inches and is backed in a dark purple and bound in a medium shade. I think it will be a good size for a play mat and tummy time, or to use as a cover in a stroller.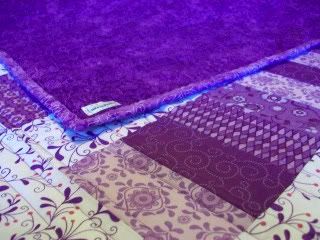 And I added my label to the back.
I made a matching changing pad using
this tutorial
from Bernina. It was an easy tute to follow and I love the result! I also used a button covering kit for the first time... if I had known it was that easy, I would have done it a long time ago.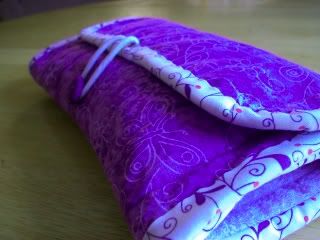 I added a pack of wipes and a diaper left over from babysitting a friend's kiddo.
Does anyone else have the problems I do with photographing purple things? They all turn out too blue!
I also made a sweet little card to include. I stitched around the outside with pink thread, and the letters were pre-made with the zig zag stitch.
Overall, I'm really pleased with this gift. Now I just have to get myself to the post office to mail it.
Welcome to the world, Baby A!