I went to the dentist last Friday morning to have a temporary crown taken out and a permanent one put in. Since I'm a big weenie, they give me nitrous oxide to relax me (in addition to all kinds of numbing... I'm usually numb for at least three hours after the appointment). Man, I love nitrous oxide. I know why they call it laughing gas... my dentist says the funniest things when I'm gassed up! (Bet this isn't what you thought you'd be reading about when you saw the title, huh?)
Anyway, after the dentist when I was clearheaded but still numb (my lower lip felt about ten pounds too big), I went to a local quilt show. I'd never been to one before and figured a Friday morning was a good time as it wouldn't be too busy, right? (Plus there's no way in heck that my husband would set foot anywhere near this place on Saturday.)
WRONG! There were tons of women and a few bored husbands holding purses milling about. People were bumping into each other at every turn. There were only 17 vendors there so it was a really small show. I got sucked in to all kinds of beautiful fabrics and spent way more than I originally intended. I love fabric. Want to see my haul?
Isn't it great? That rolled up goodness is a Hello Betty by Chloe's Closet Retro Honey Bun (sheesh, what a mouthful!) and just below that is a Fresh Squeezed Charm Pack, both from Moda. I also got a pattern for a cute wallet and several other fun fabrics.
I love the Moda Bake Shop. I love Moda fabrics. I saw a quilt at the show made out of the same Honey Bun that I bought and it is so cute! I can't wait to make something out of it.
Here's a close up of the Honey Bun. I have really been into retro and vintage fabrics lately, and these fit the bill! I almost can't bear to unroll it. Almost.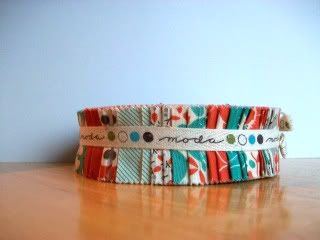 I've saved the best for last! Every woman at the quilting show was carrying some kind of quilting bag. Luckily I was carrying my trusty Vera Bradley bag, so I didn't miss the boat there. I was trolling around the different booths and came across this (blurry) vision of loveliness...

Yay! I love it... so roomy without being too big. I've retired the trusty Vera Bradley in favor of this new bag. There were a lot of items for sale that I thought were beautiful, but I didn't want to spend tons of money on something I thought I could make myself.
Sadly, quilting scares the heck out of me. My stepdad's mother is an awesome quilter and whenever I see things she's done I'm hugely intimidated.

I bought a beginner's quilting book a long time ago and used a pattern in it to make a quilt top. It was the most frustrating thing I've ever done. From the beginning with the measuring and cutting to the end with ironing seams, I hated it. It was way too complicated for me with what seemed like millions of squares and triangles and rectangles. I put it aside and never finished it. PLUS... I lost it. I've been looking for the bleeping thing for a month and can't find it.

I decided after that disaster that anything I ever quilted again would have to be much easier. I have a couple of patterns I'm considering. Hopefully sometime soon I'll pull my sewing machine from it's hidey hole in my crafty cabinet and get to quilting!