Um... somebody needs to tell whoever decides the weather that it's only October 9th. It's SNOWING here at my house! And sticking to the ground! (I actually don't mind... I think snow is beautiful, plus I don't have to be anywhere tonight or tomorrow.) Isn't it pretty?
I love how the camera flash reflects the light from the snowflakes. Above and below are views in front of my house.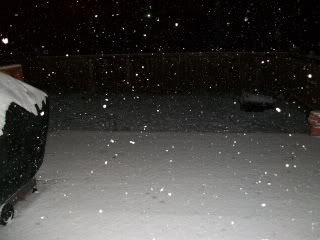 Above is the view of the deck behind the house. Below is the railing and you can see the snow accumulating.

I love feeling warm and snug in my own house with the fireplace lit and snow falling outside!