Whew! That was a long and unintentional blog break. The last month has been ca-razy. Isn't it funny how life keeps moving and time keeps passing even as you're screaming "FOR HEAVEN'S SAKE, SLOW THE HECK DOWN!"
Ahem. Sorry.
I have been crafty the last few days, though. I'm sharing a table with a friend at a craft fair (gulp) in one week, and I'm making these to sell...
What do you think? Would you buy one? And how much would you pay? I'm also thinking I'll cut some of my vintage sheets into fat quarters and sell those. Thoughts?
I love this next one... might keep it for myself. Plus, it turns out that zippers are nearly as hard as I thought they would be.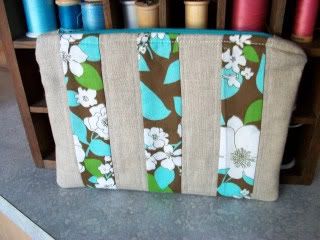 What are they leaning against, you ask? My newly thrifted spool shelf... love it!
I have a few more things up my sleeve, but they aren't ready for public viewing yet. I'll leave you with a link to one of
my new favorite sewing books
. Happy Weekend!