January is always a busy month for me... in addition to cleaning up from Christmas and celebrating my birthday, it's also my wedding anniversary and a huge testing month at school. I've only just stopped to breathe!
Only in the last couple of days have I gotten back into sewing and crocheting. I (FINALLY) started quilting my quilt along quilt... only six months late. I was so scared about quilting into the quilt top that I didn't do anything for a long time. I sort of punked out... I'm not doing free motion stippling (I still suck at that and need more practice), I'm stitching in the ditch with my walking foot.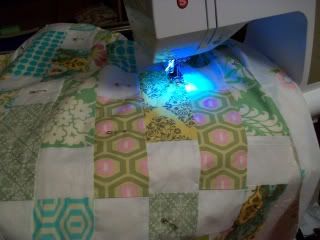 I dove into my project list and started
this baby quilt
for a friend who has a sweet baby girl due in just one week!
I've also amassed quite the collection of vintage pillowcases... I see a vintage quilt in my future!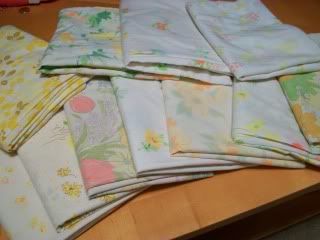 These two are my favorites:
I'm hoping to complete several quilts in 2011. Notice I said "hoping". Gotta leave myself some wiggle room. :)