Remember the
quilt retreat
I went to in November? Well, it turns out that several of the ladies who live locally had formed a chapter of the
Modern Quilt Guild
, and they invited me to join. Last Saturday was our first meeting of the new year, and five of us spent the day sewing and chatting.
I finished piecing and partially basted (I would have completely basted it but ran out of pins) Rory's quilt. Rory was born this past Sunday. Mom is a good friend from school. For her quilt I'm using an Eden charm pack by Lila Tueller for Moda.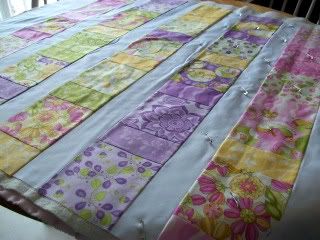 I also started piecing Emily's quilt... Emily was born in late December and is the daughter of some of our college friends. Here, I'm using an It's a Hoot charm pack by MoMo for Moda.
Do you sense a Moda theme? I must have Moda fever, because I also have a Bliss charm pack and a Punctuation charm pack that I'm going to use next.
At any rate, I had a great time on Saturday! Next month we are going to learn to piece hexagons from
Penny
. I'm excited to learn something new!