Besides
the car seat cover and the burp cloths
, I've made a couple other things to use when the baby comes.
I really don't know if all these baby things will be necessary, but they are so stinkin' adorable that I can't help myself! Plus, I know that I won't have a whole lot of time or inclination to be crafty after Baby's born, so I should do it now while I can, especially since school's out.
At any rate, I used
Noodlehead's
tutorial to make a
diaper pouch
. I'm not sure if I'll use it in the diaper bag or keep it in the car as a spare stash.
Here's the front,
and the back.
I also used
Diary of a Quilter's
tutorial to make a
nursing cover
.
Speaking of Baby, I had an ultrasound on May 20th, and here's my little girl!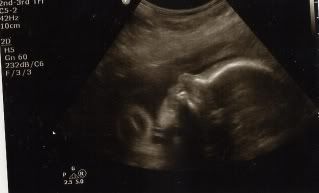 And her tiny foot! (which she has been learning to use very effectively!)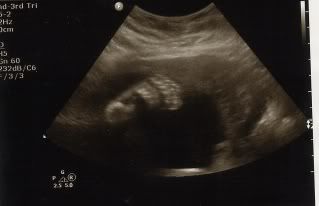 Tomorrow is 31 weeks... only 9 weeks to go before we meet her!