Since headbands have become so popular the last few years, I jumped on the bandwagon and crocheted a headband modeled after my daisy chain scarf pattern. I love regular headbands, but they squeeze my head in all the wrong places and give me a giant headache. This one is nice because it doesn't make me feel like my head is in a vise. (This one is
Nancy's
, but mine looks the same.
Don't worry, Nancy, I didn't send you a used headband, lol!)

When I wore it to work, a friend saw it and asked me to make some for her two elementary school daughters. This is what I came up with...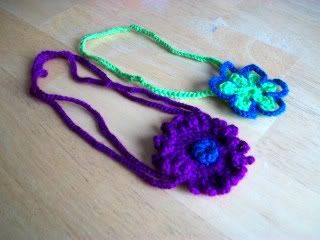 I decided to get a little fancier than my original headband. The simple one works well for me but I figured the girls needed a little more pizzazz than that.
Sorry about the bad second photo. I still suck at photographing purple.