Knuffle Bunny: A Cautionary Tale
, by Mo Willems, has long been one of my favorite picture books for kids. My favorite part is when Trixie is trying to tell her dad that Knuffle Bunny is missing, and she says "Aggle flaggle klabble! Blaggle plabble! Wumby flappy?! Snurp.". So sweet!
When I saw
this pattern
for a Knuffle Bunny on
emilie handmade
, I knew I had to make one! One of my very dear friends is having a baby early next year, and since she's also a teacher I thought it would make a nice Christmas gift for her.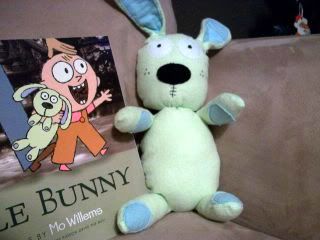 Knuffle Bunny will be accompanied by a copy of the original book. There is also a
Knuffle Bunny Too
and a
Knuffle Bunny Free
! Mo Willems is a great writer. Have you ever seen
Don't Let the Pigeon Drive the Bus?
I do have one question that I'd like to pose to you: Is it bad to give my pregnant friend a baby gift for Christmas? I'm also giving her a baby quilt closer to when the baby is born, but I really wanted to do this for her. Is it considered bad etiquette? Discuss. :)