I ended up deconstructing the original messenger bag and sewing it back together a different way. What a pain in the behind it was to rip out all those stitches! I don't want to see my seam ripper for a while.
I also had originally used a really thick, heavy interfacing. I replaced that with a medium weight that works a lot better.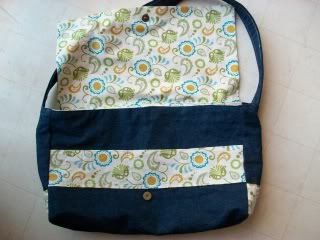 I added a snap, too. I'm really sick of the whole project and am VERY glad I can cross it off my list! Hopefully that won't stop me from using it. :)



Let's revisit the original list and see how I'm doing!

•use cute brown fabric to make a skirt
•turn plaid dress into skirt
•chair cover for classroom with owl print flannel (DONE)
•finish my large size Starling bag
•punch needle owl kit
•messenger bag (DONE)
•recycle an old pair of jeans into an apron (DONE)
Three down, four to go!
Well, not really...
I added a few new projects to the list. :)
Make a fabric basket for my teammates to hold back-to-school goodies.
Make a fabric cover for my planner/to do list for the school year.
That's not so bad, although I do need to make three baskets. Still, I'm going to use Pink Penguin's tutorial and they are really small.