I had sewed twelve strips together. Eight more to go. I decided to sew those eight together and then connect it with the twelve-strip piece... simple, right?
Apparently not.
I sewed the eight remaining strips together and then went to pin it to the other piece. Do you see what's wrong with this picture?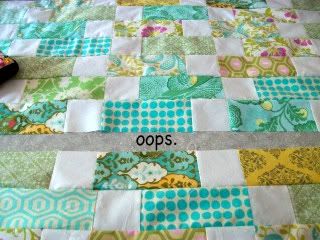 The two rows match! They are not supposed to match. They are supposed to be offset.
I'm pretty sure that when I ironed the final eight strips last night, I pulled from the bottom of the pile when I should have pulled from the top of the pile. This is why I like small projects that are quick to make... when I take a day or so off I forget how I organized things. :)
It's really not a big deal, I'll just rip a few seams and fix it.. but I was *thisclose* to finishing the quilt top and I was so excited! Oh well... live and learn.