I have a classroom aide this year, in the afternoons. She does small groups, interventions, and testing. She's a great person, and she does an awesome job. I love her!
Wednesday was her birthday, and I brought in cupcakes for the kids to celebrate her birthday. I also wanted to give her a little something, so I crocheted a cupcake.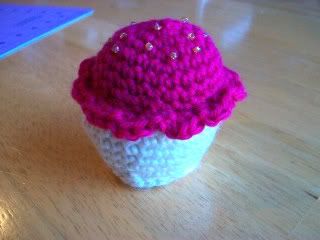 Not useful or practical, but oh, so cute! And actually, it can be used as a pin cushion, so it can be practical if she wants!