I finally, finally finished my
"On the Road to Spring"
Quilt Along quilt.
Mia
and
Nancy
finished theirs a long time ago, but I got stuck. Piecing didn't take that long, but I ended up hating the original backing fabric I chose.
When the right fabric came along in the form of a vintage sheet from a thrift store (close up below), I was scared to quilt it because I loved the quilt top so much!
Then I decided to just quilt in straight lines with my walking foot because I was scared of free-motion stippling, but stopped because that was too boring.
At long last, after I finished
these two quilts
, I felt confident enough in my free-motion skills to just quilt the darn thing. I'm so glad I did! I really love how this quilt turned out.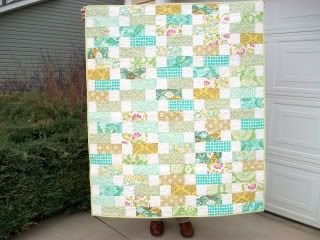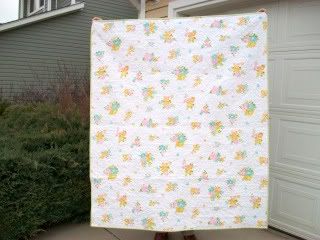 I absolutely love this quilt. I think I've mentioned that... plus I spend more time petting it than actually using it right now. :)