People. My quilting world has been blown WIDE open.
I spent this past weekend at another fabulous quilting retreat at the
Inn at City Park
, hosted by the wonderful
Tara
(she puts in so much time and effort to make things awesome!). I had fun learning to paper piece and improv piece blocks. In all honesty, I really thought I would stink at both, and possibly be the worst student poor
Penny
has ever had.
Fortunately, she's a great instructor and her workshops were informative and challenging. Here are a couple of paper pieced blocks I did as practice:
We all paper pieced the first letters of our names and turned them into pincushions. I really love how mine turned out! Plus, guess who had the most complicated initial? Yep. Lucky ol' me.
I also paper pieced a letter "E"... can't tell you why, yet! But I can tell you that I enjoy paper piecing and I definitely want to do more of it!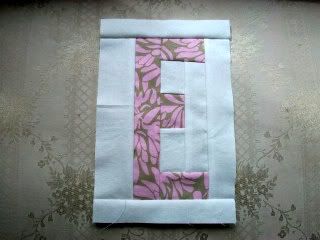 But then. THEN we talked about improvising blocks of our own design. This is where the blown wide open part comes in. Are you ready? Can you handle it?
Ha. I know I'm being dramatic, but I had so much fun! I started out by sketching a cute little butterfly for a wall hanging in the baby's nursery.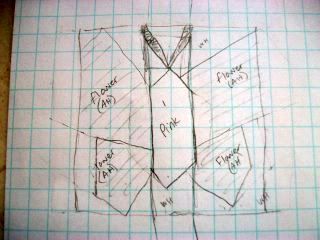 And then, I made it.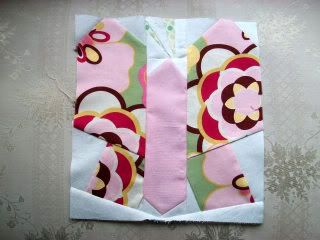 How awesome is it that my finished block actually LOOKS like the sketch?? I think that's the part that astounds me the most.
My second improv block was equally fun. I began by sketching a tree...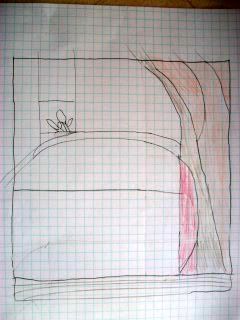 ...and then piecing it. This one was more complicated for me, and I really didn't know how it would turn out.
It's not perfect- there are some puckers, and the little twigs off the branch aren't exactly like the sketch, but overall I'm really happy with it. Originally I thought I'd square it up and frame it for the nursery, but I kinda like the wonkiness of the sides. I might quilt and bind it for another wall hanging. I even have a little applique birdie in the works!
After seeing blocks like
these
, I never thought that creating my own was possible, at least for the near future. After all, I am a fairly new quilter, and most of my stuff (okay, all of it) has been squares and rectangles. But this weekend taught me differently! (Cue inspirational music.)
Oy. Things are getting a little too mushy for me. And I still haven't mentioned the great group of ladies I got to quilt with... from L to R it's
Melinda
,
Amanda
,
Tara
,
Audrey
, and
Penny
. (My photo is dark and I wasn't able to fix it. For a better photo, go to Amanda's blog!)
There was plenty of sewing, lots of laughter, excellent food, and a fabulous goody bag. A great time was had by all!*
*See, Tara and Amanda? I told you my post would be miles long. :)