This is what we woke up to this morning: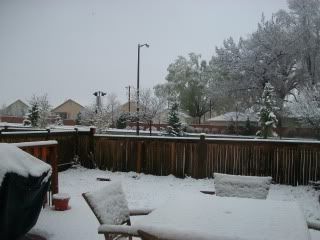 ARE YOU KIDDING ME?
And this is what I came home to this evening:
Snow's melted, but the whipping wind makes it cold. And difficult to walk outside.
See those trees on the other side of the street? I swear at least ten times a year that those trees are going to blow over. But they never do.
Spring supposedly sprung (sprang?) several weeks ago... could've fooled me. Weather in Colorado is consistently inconsistent. I could count on stuff in Florida: hot, humid, sometimes rainy. In Colorado, the forecast doesn't mean anything. It changes every five minutes.
We have a field trip to a farm scheduled for Tuesday. I'm really, really nervous about the weather!