I wanted a small project, something I could finish in one evening. I'd been contemplating making a pin cushion and then remembered the pattern I saw over at
Heather Bailey's blog
. I love the fact that the pin cushion is square! So cute. I love her fabrics, too.
I left the ribbon off the cushion because I didn't want to cover up the fabric... this is one of my favorite fabrics ever and I'm almost out of it! I've used it to make a roll for my crochet hooks and a handbag so far. I've had it forever- I think I bought it as a remnant at JoAnn.
The best thing about making this pin cushion is that I learned a new skill! I had never learned how to do the slip stitch (aka blind stitch) before. I promptly Googled it and jumped around to a few sites before finding
this tutorial
... it was by far the most clear and concise for me. Yay for pin cushions and learning something new!
Pink Button Side:


Green Button Side:



Complete with pins!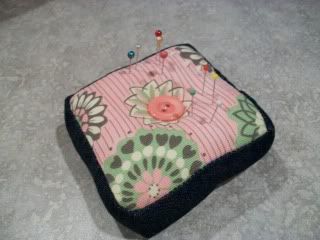 My apologies for the bad lighting... it's quarter of ten and I couldn't wait to post!