As soon as I put the
new table
in place in our master bedroom and set the phone down, I knew it needed something else. I decided to make some more
fabric flowers
, just like I did for my mom for
Mother's Day
.
I wanted to try different effects with these flowers, so for one I pinked the edges on a straight line, and one with a wavy line.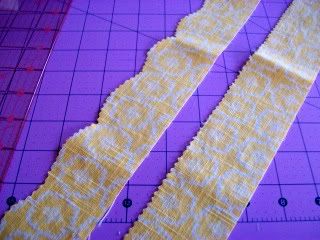 For this next print, I pinked both edges.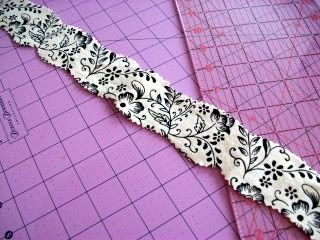 The yellow fabric was a fancy napkin from Target, hence the finished edge on the bottom. I fell in love with the print and have also used it to recover a pillow on our bed. On this one, I frayed the edges by pulling some threads.
I also used some more of Amy Butler's Lotus fabric. Here's the finished bouquet!
Now, my brand new bouquet needed a fancy vase. I didn't want anything too tall or with too wide of a neck. We had this empty Nantucket Nectar bottle I saved after Hubby drank the contents. I loved the shape of the jar but thought it was too plain, so I broke out some hemp cord a friend gave me a while back.
I wrapped the entire bottle with the hemp cord, hot gluing every few rounds to secure it. I love my glue gun. Except when I get burned, like today. And yesterday. And the day before.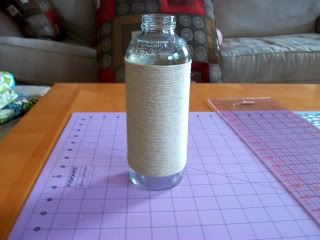 Yay! I love how this project turned out. Best of all, I pulled all the materials from... wait for it... my STASH!! :)